January 8 – The Foto Museum in Antwerp, FOMU, hosted a gallery talk moderated by British photo critic Francis Hodgson with Arts Professor Jeroen Laureyns and Linda Zimmerman. The hour-long pop up talk was held in conjunction with Indivisible: Gregory Halperin, Sam Contis and Beyeté Ross Smith, a FOMU exhibit featuring the work of three rising stars in American photography. Although the work of the three photographers is clearly different in approach, they each question the idea of America and its increasing divisiveness and inequality.
Images from Zimmerman's new book, America in Black and White were shown and discussed in relation to the myth of American exceptionalism explored by Halperin, Contis and Ross Smith. Although Zimmerman's work was produced before the Civil Rights era, it resonated with their contemporary images in surprising ways.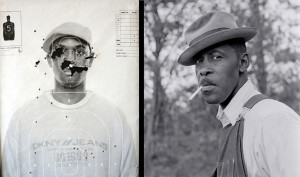 Above left: Portrait from Ross Smith's series Taking AIM, overlaid with shooting range targets that have been shot at. Above right: Zimmerman's portrait of sharecropper Matt Ingram (1952). Ingram was convicted and served two years in prison for leering at a white woman. The images point to the ongoing targeting of African American men.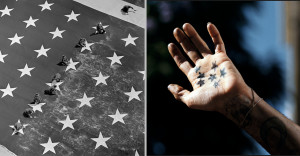 Above left: Zimmerman's photo of American Legion officers cleaning the country's largest flag, Detroit, 1954. Above right: Halperin's photo of an outstretched hand with stars inked on palm, Los Angeles, California, c. 2015.